Not blasting through a lot this week, even with an hour wait for the doc.
DCI
Injustice: Gods Among Us #16
Injustice: Gods Among Us #17
Injustice: Gods Among Us #18
Injustice: Gods Among Us #19
Injustice: Gods Among Us #20
Injustice: Gods Among Us #21
Injustice: Gods Among Us #22
Injustice: Gods Among Us #23
Injustice: Gods Among Us #24
Injustice: Gods Among Us #25
Injustice: Gods Among Us #26
- Art is really trying my patience now, and it is odd how each issue is a different artist (of the three or four they have rotating) as again, it takes three of these digital issues to produce the print version the put out, so I find it odd they don't have one artist do a three issue run and then rotate from there instead of 8 pages or so at a time. Still on board, don't get me wrong, but man, Googe's art (something I use to semi-enjoy on Wildstorm stuff) is really rough for these old eyes now. Maybe it is the same for him
MU
Immortal Hulk #26
Immortal Hulk #27
Immortal Hulk #28
Immortal Hulk #29
- This reread has been so much fun and I am enjoying this title, one I really liked originally, so much more this time around. Can't wait for next issue's Zemnu confrontation as I really, really, loved that issue the first time. I also see, coming up, I have a Tom Taylor Immortal Hulk one shot coming up called "Great Power" It hits after Immortal Hulk #30, but it takes place after Immortal Hulk #14. I find that somewhat odd that MU would not slide it in that spot in my read through.
Wolverine #10
- Speaking of bad art ... Ugh ... I hate Adam Kumbert's art. I look over at DC and see how fun and dynamic his brother Andy's stuff looks (With energy his dad would be proud of) and here, in this, I just see bad, sketchy figures with boring, bland ass panels. And now he is trying to add a Deodato style to his repertoire and ... oh boy. I'm trying to stay on this as I do like Wolverine, but between the art and the writing, I think I will only last up to issue #12
Doctor Strange #1 (1974)
Doctor Strange #2 (1974)
Doctor Strange #3 (1974)
- Reading this after Captain Marvel may have helped my enjoyment of this run, at least for the start of it as it sets my brain into the crazy mid-seventies "hey, explore any ideas" magic.
In an effort to save his beloved Clea from the clutches of the Silver Dagger (a villain I honestly had wrong my entire life ... I didn't know his goal was to purge demons from people, I thought ... ya know ... I don't know what I use to think his "thing" was
), Doc enters the Orb of Agamotto and in doing so trips his mo-fo mind all to pieces.
Strange enters the "Unreality" and finds *ahem* a talking caterpillar (explained in the pages) as well as some familiar figures that are ... not so familiar. Issue #3 is kind of a cheat as it only has two or three pages of the continuing story and throws a Lee/Ditko reprint in as most of the meat. Sneaky thing actually because if you just flipped to the first or last page, you would not have known you bought a reprint.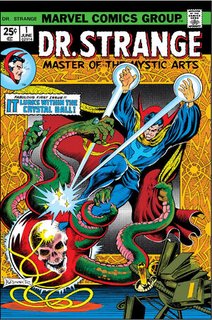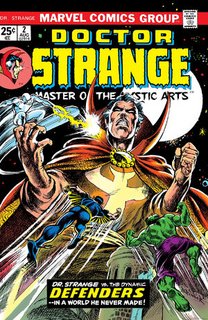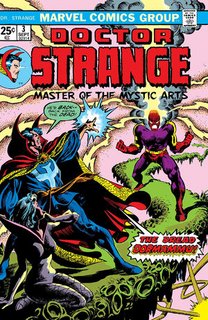 ***************************************
Captain Marvel #34